da Vinci® Acid Reflux Surgery (Nissen Fundoplication)
If your GERD (acid reflux) symptoms are severe and cannot be eased with medicine or lifestyle changes, your doctor may suggest surgery. Surgery for GERD is called fundoplication or Nissen fundoplication.
In many cases, surgery can lead to long-term control of acid reflux. If a hiatal hernia is causing GERD symptoms, your surgeon may also repair the hernia during this operation. A hiatal hernia occurs when part of your stomach pushes up into your diaphragm muscle.
During GERD fundoplication surgery, your doctor wraps the upper curve of your stomach (fundus) around the esophagus (tube that carries food and liquids from your mouth to your stomach). Your surgeon will then stitch it into place. This strengthens the valve between your esophagus and stomach, which stops acid from rising into the esophagus as easily.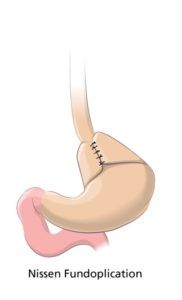 Why da Vinci Surgery?
da Vinci technology enables your surgeon to operate through a few small incisions (cuts), like traditional laparoscopy, instead of a large open incision. The da Vinci System is a robotic-assisted surgical device that your surgeon is 100% in control of at all times. The da Vinci System gives surgeons:
A 3D HD view inside your body
Wristed instruments that bend and rotate far greater than the human hand
Enhanced vision, precision and control
The da Vinci System has brought minimally invasive surgery to more than 3 million patients worldwide. da Vinci technology –changing the experience of surgery for people around the world.
Risks & Considerations Related to Nissen Fundoplication (acid reflux surgery): tear/hole in the stomach lining, tear in the small intestine or esophagus, the stomach wrap around the esophagus pushes into the chest or breaks down, narrowing or tightening of the esophagus that makes swallowing difficult, collapsed lung, difficulty swallowing, bloating and discomfort from gas buildup, hiatal hernia which occurs when the stomach bulges into the chest through a hole in the diaphragm (muscle separating the chest from the abdomen).
IMPORTANT SAFETY INFORMATION
Serious complications may occur in any surgery, including da Vinci® Surgery, up to and including death. Individual surgical results may vary. Patients should talk to their doctor to decide if da Vinci Surgery is right for them. Patients and doctors should review all available information on non-surgical and surgical options in order to make an informed decision. Please also refer to http://www.daVinciSurgery.com/Safety for Important Safety Information.
©2017 Intuitive Surgical, Inc. All rights reserved. Product names are trademarks or registered trademarks of their respective holders. The information on this website is intended for a United States audience only.
PN 1006176 Rev C 11/2015